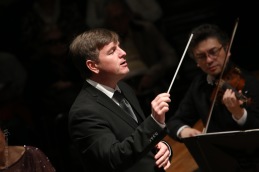 It is with great pride and joy that I welcome you to the Tommie Haglund Festival of 2018.

This is the second time that we together with the Church of Sweden in Halmstad organize this festival in order to manifest the expressive music of Tommie Haglund.

Tommie has during a number of years enjoyed great recognition and acclaim all over the world for his emotional, almost romantically wilful compositions.

His musical expression is quite unique and an ever growing audience and musicians are moved by the depth and passion of his music. It speaks of the soul and of eternity, and he does not swerve from being utterly serious and personal in his approach and tonality, balancing between boundless beauty and darkest blackness.

I have worked with Tommie for many years and I always marvel at the line his composing has followed over the years, an enormous arch of works, each one leading logically on to the next, and the next….


I am very happy to be Tommie's musical interpreter and as artistic manager of the Tommie Haglund Festival offer you as an audience to take part of his musical universe during this extensive three-day festival.

I am also very proud to be able to present soloists of the utmost world class at this year's festival - brilliant musicians and singers burning for Tommie's music.

We are also honoured to present the Helsingborg Symphony Orchestra as Orchestra In Residence. The HSO are strongly connected to Tommie Haglund by several first performances of his music.

I warmly welcome you to the Tommie Haglund Festival!

Joachim Gustafsson
Artistic manager